Harry Potter



ALLOW TIME FOR ALL GIFS TO DOWNLOAD PLEASE !
Each time You, I, or anyone else, goes to a movie, watches television,
or plays an arcade game we are watching a

Training Film !


Training films were perfected during World War Two to be used
as a propaganda tool to brainwash the public in to believing what the government/military wanted the public to believe
AND
as a method of training and brainwashing the new recruit soldiers.
In short order a recruit knew how to think, act, and kill as illustrated
and justified in the TRAINING FILM.

I am absolutely astonished that after sending a child to play some
"knock their heads off" arcade games and "smash each other"
sporting event, a "kick boxing" movie and possibly a number
of "tae kwon do" practices - - -

The parents are then surprised and horrified that their little
"trainee" gets in to a school ground fight or street fight!

poor babies? Nope - trained to do just that!

AND NOW

Harry

Potter
In the past children of all ages read books and stories about witches,
wizards, and goblins taking place in our realm and in the underworld.
We now have a new "twist" to those stories.
In one of her original interviews whilst on a train with a Canadian
Broadcasting Corporation team, the, not until then, very successful
to that date writer J.K. Rowling, told of herself sitting down and
having the Harry Potter stories literally stream from her fingers!
She told the C.B.C. TV. Interviewer that she was amazed at how
the stories "almost wrote themselves". While being interviewed
on the B.B.C. and then on I.T.N. of Great Britain she made
similar comments.
She commented that each of the Harry Potter books was getting
darker and darker to the point that she was very uncomfortable
with them, didn't know where they will end, even though they
were written as books for adults and not children.
In her most recent interview Rowling has changed her story
telling how difficult a time she has being creative and how many
ten hour days she puts in "anguishing" over her creations.
Her publicist obviously is aware of the term "Spirit Writing"!
In the same interview (T.V. Week of November 17,2001) she states
"The amazing and magical thing is that the character of Harry Potter just popped into my head, fully formed.
Looking back, it was all quite spooky!"
Methinks she is a slow learner and even though she limits her
interviews to being interviewed by children she lets her "influences"
be exposed. She said "My best ideas often come at midnight".
J.K. Rowling, her publicist, and promoters, and the media are now
"pushing " these movie(s), and the books they are based upon
as "Entertainment for Children".
The dollars are "rolling in" beyond anyone's expectation as
the promoters pander their wares.
We have the books, the movie, the games, the C.d.'s, glasses,
and even an "Official Harry Potter Broom" for the "Potter student"
to practice Wiccan flying.
The vast difference between the "Fantasy Tales of Old" and the
new all encompassing "Potter Witchcraft Experience" is that
when a child read the story "Hansel and Gretel" it was a single child,
and maybe a friend, or at most, a small group who read and
fantasized about
"The EVIL Witch and resulting dilemma".
It is impossible to compare those past exposures to the occult
with the full blown promotion we have today of witchcraft as
being good, the lessons on casting spells, and the use of
witchcraft and the occult for fun, and how to use these
powers for control.
Sadly, trying to control one's own environment in such a manner
leads to rebellion against any authority
- including parents and teachers - and the desire to
"do it my way".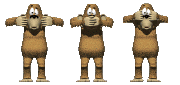 It might be practical, before warning children of the evils of meddling with
the "other world" or the metaphysical the advisor give up his or her;
Horoscope
Astrological Tables
Tarot Cards
Ouija Board
Dousing Rods
Martial Arts
T'ai Chi
Acupuncture
Reflexology
Rabbit's Foot
Lode Stone
Iridology
Colour therapy
Crystal Power
Yoga
Palm Reading
Teacup Reading
Pyramidoligy
Feng Shui
For A Christian Perspective
Touch Image
If You Have A Headset You Can Talk
With Donald F. Dutkowski