Oasis Ministries



The perfect opportunity for an individual, or family, who has the

funds but is unable to travel and be part of the world mission field.

For less than the price of a trip to and from India one can sponsor and

fully fund a band of 53 Missionary/Evangelist workers for one full year.

Oasis Ministries is working in the field now and needs YOU!

Oasis Christian Evangelists are in the process of visiting tribal area villages in the

North part of Andhra pradesh and the coastal area in the south part of Andhra pradesh.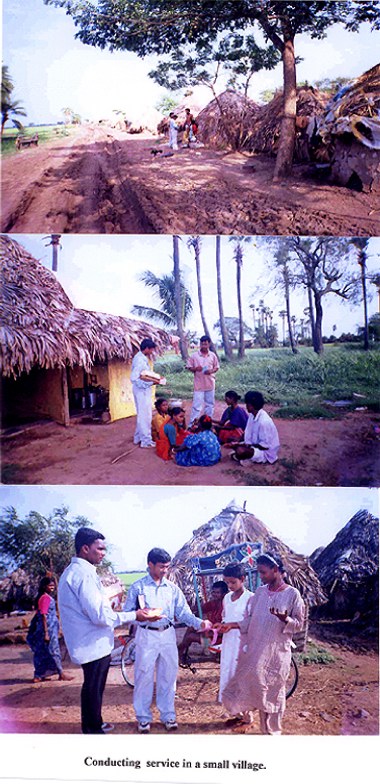 This group has NO OUTSIDE HELP.

The total budget for the work of these 53 was but US $ 725.00 for the full year 2002.

This included the pay packet for 43 - the remaining 10, on a 100% volunteer basis.

OASIS distributes Bibles and Christian literature that they purchase from the Bible Society of India.

OASIS also distributes clothing to the widows and orphans in the rural areas where the populace

has virtually nothing.

OASIS MINISTRIES holds outdoor Church services, prayer meetings, seminars,

revivals, and conducts lectures.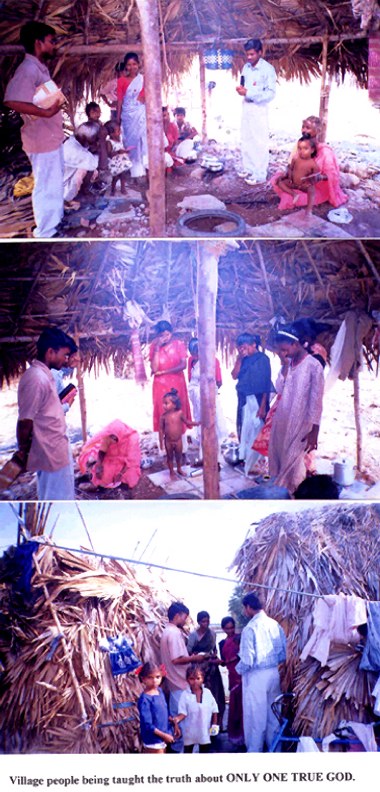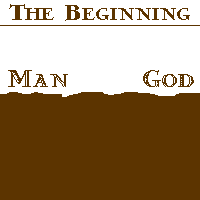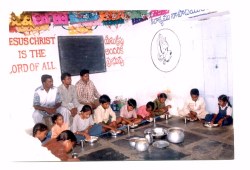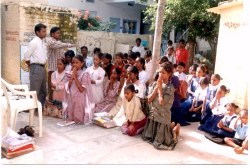 OASIS is also active in teaching and feeding children at the Oasis Childrens Home (Orphanage)

This year Oasis Ministries is looking for outside help to expand the ministry and has set a budget

of 100000 Rupees. That is equivalent to US $ 2,069.00. A vast increase from the 35,000 Rupees

that they have received from local contributors in their area of India.

The 2003 budget would allow for remuneration for all of the Pastors, money for more Bibles,

tracts, and more travel. Bibles cost OASIS only 80 Rupees each, the equivalent of $ US 1.60


of OASIS were educated.



For more pictures, information, and more details please E mail

OASIS


or



Yahoo Messenger with OASIS MINISTRIES at oasis_india99@yahoo.co.in


or

Write

Rev. K. John Benhur

Oasis Ministries or Oasis Children Home

Gullapalli - 522 309

A.P. SOUTH INDIA.

Telephone 91 - 8644 -23 -1283

Cell 9440028974.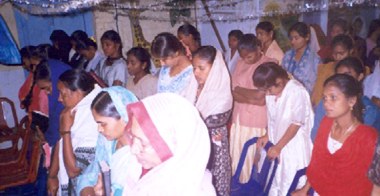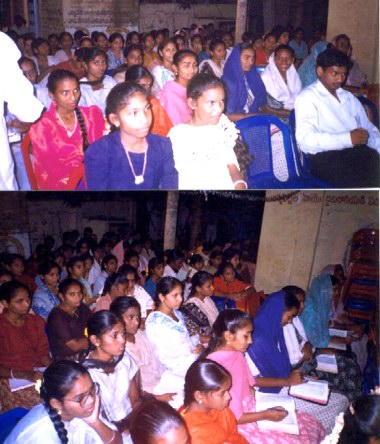 More Than 200 Attend OASIS Pre Exams Youth Rally February 2003

This Ministry is following The Bible, not trends!


Touch to get to the full story

We at toughlove.faithweb.com are pleased to supply this web page at no charge to

OASIS MINISTRIES.

"If you are impressed or moved, please PRAY daily for the success

and safety of the workers at OASIS MINISTRIES."

Thank You, D.F. Dutkowski

Please report dead links etc. to


the Webmaster in Canada